notes on Hoshi No Umi No Amuri
one of the most bizare anime I've seen
I have no clue what happens in this anime. I have very little understanding of how it got made in the first place. I do not even know if I love it, or hate it. Let's get some introductions out of the way up front.
The boring part where I fill you in on the background details
Hoshi No Umi No Amuri (hereafter shortened to HosiAmu) English title "Amuri in Star Ocean", is a 2008 3 episode OVA from studio Hibari. Hibari have brought us some strange things in the past, like the batshit "Fight Ippatsu! Juuden-chan!!", so it's not that surprising to find out they were involved here. It's directed by Yoshitomo Yonetani, who we'll be coming back to a little later.
The synopsis reads: "The 3D modeled anime is set in Year 019 of the Insonity Progressive Revolution - a future era in which mankind has evolved into a new species called Adapters. Three very young Adapter girls from Japan, China and France set out on a space adventure that will affect the rest of their species."
If that seems vague and confusing, get used to that feeling. But here we do glean our first nugget of intrigue, this is a 3d modeled anime. Now I don't think this is the first 3dcg anime, just off memory I know that Platonic Chain came out in 2002 (that show sucks ass by the way). However, this does seem to be the first full 3dcg moe bishoujo anime, and that's well, something I guess.
the actual show
Here's where I'm not sure if I'm just really weird or I'm onto something. I picked this show up in the first place because I really liked the character designs.
TFW no images on gemini so go watch the show yourself, at the very least just try watching the first 5 or so minutes to get a feel from the show. I'm gonna try and put some images in here (dithered to reduce file size because I give gifts to you), but yeah go see if you can find the show via your usual routes of aquisition, to get a sense of what I'm talking about.
The first thing I noticed about the show beyond the character designs is that, holy shit, this show is kind of beautiful?? Like, the first few minutes of that first episode have some really striking posing and framing, creative use of light and colour, and some surprisingly dynamic animation.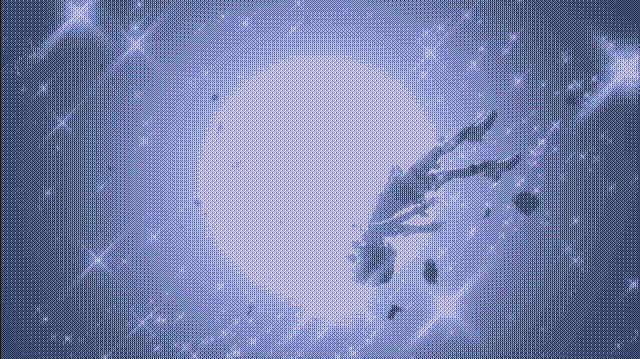 There are definitely some moments where the age of 3d tech is sorely on display, I've heard it said that HoshiAmu looks like a PS2 cutscene but hey, if that's true it's a really fucking pretty ps2 cutscene. Ok to be fair, it doesn't look good all the time, but the lows aren't really that low, given the strength of the character and environment design even the less exciting shots still look appealing. That is, to me at least, your millage may vary.
The second thing I noticed about the show is that I had no fucking clue what was going on. I won't bore you by trying to describe what I could parse (again, go watch it), but what I will say is that is an experimental sci fi mahou shoujo narrative with a fun cast of cute girl characters doing stuff in space. There are some yuri elements, but nothing super fleshed out in that direction. It's mostly just weird.
Yonetani-san, please explain
with the help of google translate, I've done some digging with interviews that Yonetani-san gave at the time about this show, mainly from the show's website which is somehow still up, www.amuri.jp.
" have been suffering from hay fever since childhood.

When I'm dressed like this (the director wears a large mask and anti-pollen sunglasses during the interview), everyone laughs at me, saying, "Hey, hey, director, don't be silly."

Ever since I was in elementary school, the pollen season has been tough, and I've been ridiculed by the people around me.

In episode 1, there is a scene where Amuri, who was skating, repels the ice rink and spins around.

Amuri desperately wants to help me, but everyone around her is laughing. In my sadness, >Amuri is my alter ego.

But I think the number of people with allergies will continue to increase in the future.

That's the theme.

In relation to allergies, can it be overcome? Should we get along? Or should it be used effectively? what is the right thing to do? I am raising an issue."
"There are beautiful girls, there is sci-fi, and in addition to that, it also tackles social satirical themes properly."
It's about hay fever???? If you've just come back after watching the show, I know there's basically no way you would ever have understood that. But we both know you didn't watch the show just because some rando in a gemlog told you to, no one does that. After learning this, it does make sense I suppose, each of the main characters x-men mutant style abilities could be considered parralels for aspects of allergic reaction.
I mean, it kind of makes sense it's just a strange thing to make an experimental sci fi bishoujo anime about that's all
I think this man might be a bit insane. The good kind of insane that is. I mean, according to these interviews, no one working on this project had ever made a 3d animation before? The studio completely upended its entire workflow, people learned new software and tools to make this? Just to explore what might happen in relation to allergies in the future. It's beautiful.
Also, when the project was first launched, it was a time when Studio Hibari didn't even have a CG department.

The staff had absolutely no experience with animation, so we had to teach them not only the basics of moving images in animation, but also ordinary camera work, layout creation techniques, and CG creation know-how, so it took a lot of time. rice field.
Yeah I don't know why it just says "rice field" in there either but that's what google spat out.
closing thoughts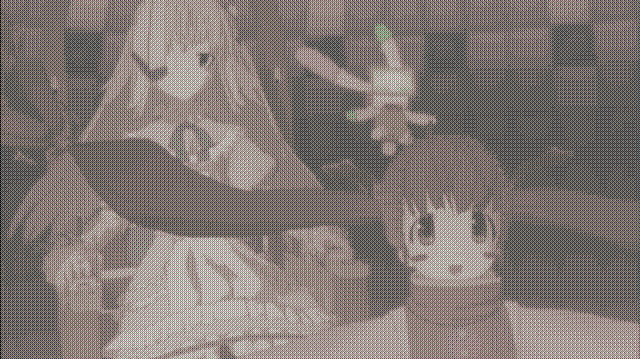 Although it is classified as a beautiful girl anime, it has a magnificent story and a deep theme that incorporates elements of hard science fiction!
You know, upon rewatching the show to right this post, I Think I have decided contrary to my statement in the opening paragraph that I do love this show. It's so weirdly ahead of it's time, and yet also perfectly of it's time. There are genuinely cool sf concepts which don't really make any logical sense but are somehow emotionally satisfying, like the "air candy". I like how the scale of the narrative can be unexpectedly huge at times, but the focus on character keeps the show intimate. The plot is definitely hard to follow, the problem isn't not knowing what's happening, but why it's happening or what it means. I can see what is physically happening, I just sometimes don't know what it means that that thing is happening, what caused it, and what effect it will have. I think this is partially a problem of just not having enough time in 3 episodes to explain all the information you need.
It was difficult to create an environment that could secure a production line for the TV series, and the physical strength of the production company was still immature, so it was not possible to secure a system to make a movie.

I think that OVA is the limit.
In the end, the girls are cute, which is what really matters of course. Join me next time when we'll talk about something else with cute girls.
---
/gemlog/